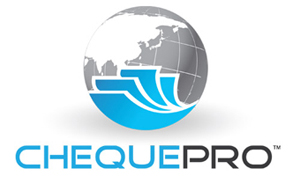 ChequePRO
ChequePRO is a cheque writing program for every office that solves manual cheque writing problems. If you issue Cheques in your day to day life and need to maintain the information of cheque number, the amount you paid, whom you paid, the reason why you made the payment and have monthly reports and analyzing then, you must opt our ChequePRO program which helps you to print on any bank cheque across the globe and manage your customer information. Leave your uncertainties aside regarding payments you make through Cheques by switching-on to world's most trusted brand-ChequePRO. ChequePRO enables thousands of users all over the world to enjoy the simplicity and comfort of cheque writing.
ChequePRO software is a unique solution of all your cheque related stuff. Cheque Printing Program that prints on any size of cheque of any country to a normal office printer. It supports lot of features which provides our clients world class service. It eliminates Spelling Mistakes, differences between Amount in Figures & Amount in Words. Most of the printer type is supported laser viz. Printers, Deskjet Printers, Inkjet Printers, All-In-One Printers.The principle of maker and checker where one individual may create a transaction, the other individual should be involved in confirmation/authorization of the same. In this way, strict control is kept over system software. User can add signature to cheques. There are so many features which can be utilized in maintaining cheque without any error.
Quick Features
Truly International
Can be used in any country for any bank
Supports Most Printers
Built on the ideology of utilizing existing resources
WYSIWYG Alignment Engine
Help's To Build cheque Layout To Fit Your Bank Cheque
Typo Error Free
Eliminates Spelling Mistakes, Differences between Amount In Figures & Amount In Words
Tamper Proof
Cheque's Printed from ChequePRO cannot be Tampered
Bank Cheque Templates
100's of bank templates which has images and alignment of various banks from various countries.
Business Intelligent Reports
Historical record on issued cheque, Bank Statement, Management reports, Reconciliation, etc
Batch Printing
Batch Printing
Electronic Signature (Digital) on Cheque
Digital signature
SOME OF OUR PROUD CLIENTS