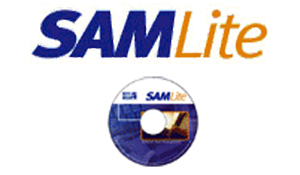 SAMLite
SAMLite is a solution developed to take away the pain of managing software in an easy to deploy and easy to administer manner. Developing since 1999, the objective of SAMLite was to give organizations an alternative to tedious physical auditing methods and expensive and complex software methods. For most organizations, technology assets such as servers, desktops, and the software installed on them is a significant investment. However, many organizations struggle to find effective ways of managing other electronic assets, such as software in a cost effective manner. SAMLite is perfect for Software Asset Management that Secure your environment, Manage legal liabilities and license compliances, Reconcile Software Procurement, Comprehensive Reporting and Plan your software usage.
Traditional methods of auditing and controlling software like other assets are labor intensive and expensive. SAMLite brings Programs which not only cut your woes but provides complete peace of mind. SAMLite takes less than a week to deploy and capture the installed software data on all desktops and servers as there are no active agents installed on your machines, you can rest assured knowing that it will not impact any existing applications.It provides much more than many of the software auditing tools currently on the market, because it covers the entire software management lifecycle, from software procurement to installation, monitoring and eventual removal of software.
Quick Features
FAST, UNATTENDED AUDIT COLLECTION
SAMLite is a lightweight solution that caters for rapid deployment with simplicity in mind.
AUTOMATED MACHINE AND SOFTWARE DETECTION
SAMLite will allow for on demand inventory of PCs, Servers and software installed.
CLASSIFICATION OF DATA INTO VIEWS
The SAM Administration Console caters for classification of data into views for easy and relevant.
ASSIGNMENT OF COST TO SOFTWARE
SAMLite provides IT managers with an interface to assign software cost associated with each piece of software.
TRACKING OF SOFTWARE PURCHASES
Purchases of software can be centrally tracked together with license information through SAMLite.
TRACKING OF SOFTWARE INSTALLATIONS AND REMOVALS
Both authorized and unauthorised software installation and removal can be detected using SAMLite.
RECONCILIATION REPORTING
Based on the automated software discovery feature of SAMLite.
INTUITIVE ADMINISTRATION CONSOLE
The SAM Administration Console is designed with ease of use in mind.
SAMPLE POLICIES AND PROCEDURES FOR SOFTWARE ASSET MANAGEMENT
SAMLite provides much more than many of the software auditing tools currently on the market.
SOME OF OUR PROUD CLIENTS